WELCOME!
Our Chapter has 45 or so members from, as our name reflects, the Southern Interior of British Columbia, Canada – and beyond! We live as far north as Prince George, B. C. and as far south as Washington; to the west on Vancouver Island and to the Canadian east in Alberta.
CHECK OUT OUR NEW PAGE – CHAPTER BULLETIN


FOR THE LATEST UPDATES!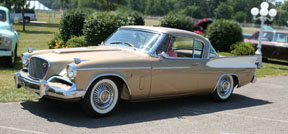 We drive our Studes, too. In 2021 Chapter members logged 1,202 Studebaker miles to local Chapter events and 3,126 to other Studebaker related events. Our 2021 Driver of the Year Awards went to Gary Koo and Jeannie York, and Eric and Shirley Standen.
We're a busy bunch. We usually hold a meeting each month, often featuring interesting, scenic drives or innovative car games, however these past couple of years Covid restrictions have curtailed our activities.