DRIVER AWARD
To encourage members to drive their Studebakers, our chapter awards a trophy (sometimes trophies) at year end to a Driver of the Year. A member can earn points in the following ways:
Local meet mileage is a record of the miles traveled in a Studebaker to and from the BC Southern Interior Chapter meetings. We continue to count miles rather than kilometres because our Studebakers are of that era.
Related SDC mileage is a record of the miles traveled in a Studebaker to and from any car meets that your Studebaker attends OTHER THAN our local chapter's monthly meets.
Mileage points are a total of the points awarded for the total miles traveled to local and related SDC meets. 1 point for every 20 miles is the criterion. Example: 1000 total miles = 50 points.
Attendance points are awarded for attending BC Southern Interior Chapter monthly meetings – 5 points for attending or 10 points for hosting.
Total points is the addition of mileage and attendance points.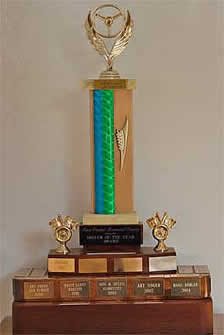 A large traveling trophy is awarded to the person with the most total points. They also receive a keeper trophy since the traveling trophy has to be returned at year end. A second keeper trophy is awarded to the person who has accumulated the most miles in a Studebaker traveling to and from just chapter monthly meetings. Some years, one person is the winner in both categories (the high number in local meet mileage and the high number in total points).
Note: Points are awarded to the driver of the Studebaker, not necessarily the owner. So, all you have to do is show up, even if you have to borrow a Studebaker to drive.
2020 Studebaker Driver of the Year Award
Well, 2020 was a year of fewer events and thus fewer miles. We have two winners for 2020, Brian and Barb Curtis who drove 1413 miles throughout the year to earn top points. Chuck Douglas (Karen stayed home) collected the most attendance points. Both winners have been awarded $100 CDN. The Curtis' will also received a plaque on the travelling trophy.
In 2020 Chapter members logged 3,516 Studebaker miles to local Chapter events and 2,233 to other Studebaker related events for a total of 5,749 miles, less than half of 2019's 13,296 miles.
Click here to view the 2020 Driver of the Year stats. Click here to view the 2019 Driver of the Year stats. Thanks to Don Parker for coordinating this for our chapter.