DRIVER AWARD
To encourage members to drive their Studebakers, our chapter awards a trophy (sometimes trophies) at year end to a Driver of the Year. A member can earn points in the following ways:
Local meet mileage is a record of the miles traveled in a Studebaker to and from the BC Southern Interior Chapter meetings. We continue to count miles rather than kilometers because our Studebakers are of that era.
Related SDC mileage is a record of the miles traveled in a Studebaker to and from any car meets that your Studebaker attends OTHER THAN our local chapter's monthly meets.
Mileage points are a total of the points awarded for the total miles traveled to local and related SDC meets. 1 point for every 20 miles is the criterion. Example: 1000 total miles = 50 points.
Attendance points are awarded for attending BC Southern Interior Chapter monthly meetings – 5 points for attending or 10 points for hosting. Total points is the addition of mileage and attendance points.
A large traveling trophy is awarded to the person with the most total points. They also receive a keeper trophy since the traveling trophy has to be returned at year end. A second keeper trophy is awarded to the person who has accumulated the most miles in a Studebaker traveling to and from just chapter monthly meetings. Some years, one person is the winner in both categories (the high number in local meet mileage and the high number in total points).
Note: Points are awarded to the driver of the Studebaker, not necessarily the owner. So, all you have to do is show up, even if you have to borrow a Studebaker to drive.
2022 Studebaker Driver of the Year Awards
We racked up the miles in 2022! Driver of the Year included twenty participants, with a total of 12,633 recorded miles driven. Congratulations to all those who drove their Studebakers this year.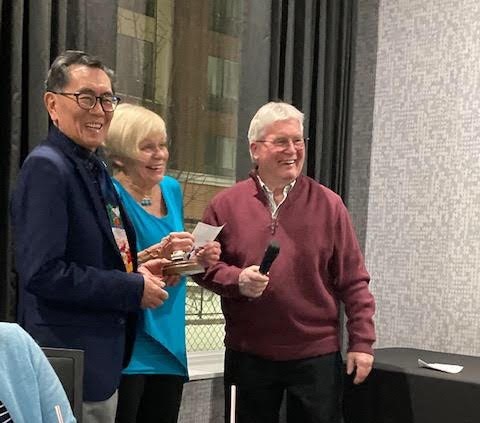 Driver of the Year  2022 – Most Meeting Miles was awarded to Gary Koo and Jeannie York. They drove 952 miles to chapter meetings and 40 points for attending, for a total points of 132. 
Gary Koo, Jeannie York, and presenter Don Parker.
Photo by Pat Wheatcroft
Driver Of The Year 2022 trophy was awarded to Lynn & Diana Fletcher, for the most recorded event and meeting miles 3,749 and 45 points for attending chapter meetings, for a total of 232 points.
Diana and Lynn Fletcher with presenter Don Parker.
Photo by Colleen vanDyk
---
Past Year's Stats
Thanks to Don Parker for coordinating this for our chapter.